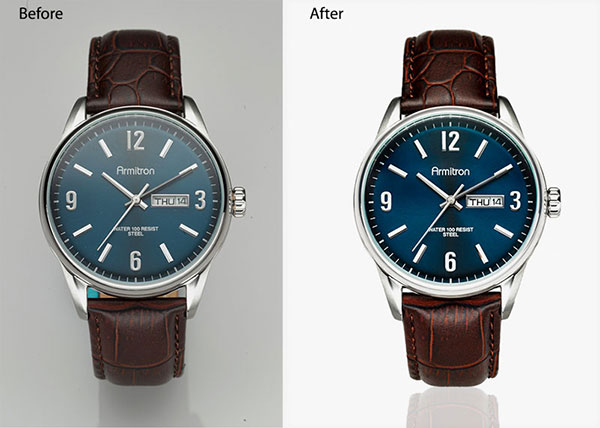 When we see an image of watch advertising, we wonder what task goes into presenting the stunning watch. A photo retouching team is out there to make the watch beautiful in our eyes through different activities which includes removing the poles, holding the watch, cutting out the watch, adding the watch onto a different background and many more tasks.
Image post production process is very important task after the product photo-shoot because post production ensures product actuality rather than making any radical changes. Therefore, although using high end lighting techniques at the time of photo shooting, image post production process is mandatory for high volume of sales. For this reason, photographers always depend on professional photo retouching service provider to make sure that the product is looking better than the time of shooting.
Moreover, watches are not very easy to photograph. One thing that professional photo retouching service provider can do for the photographers is providing quick turnaround service after making ultra-polished images of watches. Like other jewelry products, watch photography needs a high end retouching service that includes cutting out the watch from the background, removing dust from the watch, doing natural color correction etc. These entire tasks bring up very high quality final image for watch photography.
Clipping Times Ltd. is an expert in this field doing the image post production process for the watch industry. The retouching team of Clipping Times Ltd is providing high quality service to many prestigious watch companies around the world. This team is directly involved with image post production process for them, providing high quality service along with fast turnaround time at very affordable price.